Rental Pedal Boat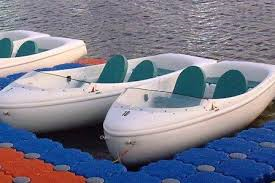 Our Pedal boats are our easiest boats to operate, they glide though the water even in wind and waves. They're very stable and lots of fun! Most kids over 12 can use these boats by themselves (with parental supervision, of course).
Note: Minimum price of $35.00 is based on two Adults. Capacity per boat is 4 people (children included) or 900 lbs.
We have one pedal boat that holds 5 please contact if you would like to reserve this boat.
Boat rentals are also available on a drop-in basis from 9am to 4 pm daily, subject to availability.